Click HERE to see a 3D Trailer "Sea of Love" of Humpback Whales
See what it is like to swim with these Masters of the sea
After viewing this video, click the 'back' arrow to return to this page
When: September 30-October 6, 2018 (Week One); October 7-13, 2018 (Week Two)

Where: Moorea (Tahiti) French Polynesia

Personal Investment: $2950 (double occupancy)

Non-Refundable Deposit: $600 per person
First Balance due April 5, 2018: $950 per person
Final Balance due July 5, 2018: $1400 per person
Single Supplement for a Bungalow: $400

IF YOU STAY FOR BOTH WEEKS: $400 Discount for Second Week
***We can only take 8 participants each week ... these weeks are beginning to fill
Travelers Insurance: We strongly suggest the purchase of travelers insurance in case of your possible cancellation (must be purchased within two weeks of purchasing your tickets to cover pre-existing conditions).
Cancellations: Your deposit of $600 (or $1200 for both weeks) is non-refundable. Other Retreat monies paid are non-refundable unless we can fill your space (then, you will receive these other monies back minus $75 credit card fees and handling). This is one reason we strongly suggest the purchase of travelers insurance.
Accommodations: Every two people will have their own private bungalow yards from a pristine white sand beach. Each bungalow has a bedroom with queen bed and a living room with a very comfortable top-of-the-line sofa bed imported from Italy. First to enroll gets the bedroom. They all have kitchens so you can make your own breakfast and lunches (dinners too if you choose). Or we can go for lunch and dinner at a nearby wonderful restaurant. We will arrange roommates if needed. If you are a single participant, we will give you a roommate unless you want the single supplement. We will have early check-in and late check-out priviledges.
Includes: Accommodations for six nights at our luxury resort plus one night in Papeete, Tahiti before the retreat begins; five humpback whale swims (4 to 5 hours per day); all retreat gathering; all transfers except ferry to Moorea ($15 each way) if you travel with the group. Airline tickets, food and ferry to Moorea are not included. Hawaiian Airlines, which flies there and back on Saturdays, has flights from Los Angeles and San Francisco for about $1400; from Hawaii = $1000.
Optional: We will have the honor of enjoying a very beautiful and meaningful tour of the most beautiful place for views of this magical island PLUS visiting ancient sacred temples where we will commune with the womb of Mother Earth empowering us with the connection with the King's Chamber of the Great Pyramid of Egypt. Very transcendent. Tour guided by Max Sendtner-Voelderndorff who has lived in Moorea for years and honors this sacred land.. Optional $60US.

Content of retreat: On the first day, we will have our orientation, getting to know each other and communing with the whales in meditation. On boat swim days in the afternoons after our whale encounters you may bask in the beauty all around you and swim in the warm aquamarine ocean yards from your door. In the late afternoons we will merge with the whale mind in meditation, receiving channeled messages and be immersed in the expanded, refined vibrations of their deep wisdom. We will share our experiences and revel in our special pod energy of unconditional love. The whales will guide the retreat's unfolding. We will be changed forever as we touch the very core of our Beings and our soul purposes. On the last morning we will have our closing gathering before leaving the island and traveling back home.
***Experienced snorkelers only
WHAT PARTICIPANTS SAY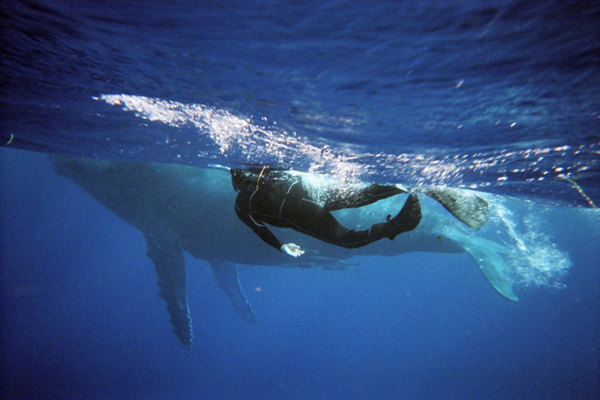 "The radiant love I received from swimming with the humpback whales is equal to the love I felt from Doug and Trish during this inspiring retreat. When a calf looks into your eye you know you will never be the same again. The ancient beauty of the land in Moorea and the turquoise waters immerse you in its' energy. Doug and Trish are insightful and immensely filled with Whale and Dolphin Spirit. They lovingly share it with us and well as giving space for each of us to share what is in our heart. They are not only amazing facilitators, but friends for life."
Sheri Parelskin
"To swim with the humpbacks is one of the most exciting, wonderful, deeply touching, heart opening experiences! And Moorea with its sacred, pyramid shaped volcano mountains covered by lush tropical trees and its ocean shining all the way from light turquoise to deep blue is magical! Thank you, Trish and Doug to deepen the experienced through your love and care, the beautiful meditations and the chanelling and your commitment to the whales!"

Ingrid Frank
---
"As I reflect on my time spent in Moorea with you, I realize how incredible you two are and how appreciative I am so have spent the time with you. I have learned SO much! My journal writings and the feeling in my soul and my heart indicate the magnitude of this trip for me. Wow. Thank you for putting it all together ... all the time, energy and effort to pull it all off was so worth it. You can count me in for next year!
Stephanie Havelka
---
"My week in Moorea with Trish and Doug and the whales was nothing less than epic !!
Swimming in the ocean with these gentle giants was an opportunity to learn from their very deep wisdom. Each day the message became more clear and the whales gave us hints about what we can do for each other and the world. The words that come to mind are patience, trust, surrender and open heartedness. My heart burst open while swimming in their presence."

Nancy Chase


---
"Dear Trish and Doug. Thank you so much for this wonderful retreat where I found joy. I still feel joy today, weeks after the end of the retreat! I feel that your retreat brought joy that I had lost 15 months ago because of life circumstances. On my way back home I was starting feeling apprehensive in the plane. Would all this joy found in your retreat go away? Well, real life is hard. I had a few hard days at work. But guess what? The joy is still here! But the impact of this internal joy is much more important than just personal joy. I taught 2 classes to University students this past week and prepared another for next week and I really loved it. The students felt it, they felt the potential impact of my research for society and for themselves so they kept me for 30 min after class to talk about the impact. I could see my students bursting with new ideas. So the joy found in your retreat spilled over an had an impact on my students! In parallel, I have less fear about tackling work that was less enjoyable to me. So there was a true shift in me after your retreat. I am still in the process of changing. I can also see how certain types of work cause anxiety and I am shifting this process through detachment, love and compassion so that I can tackle more than before without being emotionally affected. Finally, I feel that my long-term goals are more in reach than ever. I am not sure how and when it will happen, but I feel trust that a solution will come. I feel better than ever in this special time of change."
Veronique Bohbot, PhD
---